STRUCTURE
In order to address the objectives of 5G-SMART, the project will be structured in five technical Work Packages (WPs), one work package for management and one work package for dissemination and exploitation of results. From the five technical work packages, three of them will focus on trials and validation, one will focus on the developing and prototyping conceptual features and another one will focus on mainly conceptual work in the business and technical aspects for different radio deployment options. The next Figure shows a brief overview of the WP structure and interactions between them.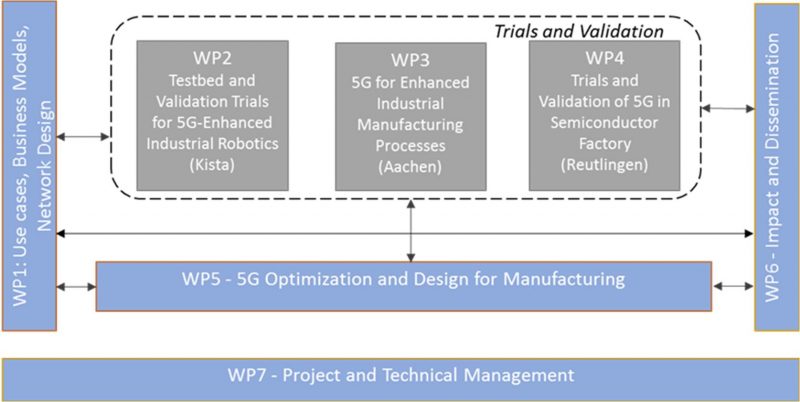 Figure 5G-SMART Work Package Structure
5G-SMART adopts agile methodology by executing iterative, incremental development and validation cycles along with regular updating of priorities. Based on such process, changes to the plans during project lifetime can be done in seamless manner. In Trial WP, each task is executed in a short work cycles for development of components and further validation of the solution. These short cycles enable to incorporate new requirements coming from the WP 1 and allows flexibility based on the changes in the components availability.
The whole project is divided into two phases. Phase 1 runs from M1 to M12 and Phase 2 runs from M13 till the end of the project (M30). First phase will initiate with use case and requirement analysis ending with trial setup and development of the components being initiated. At the end of the first phase, initial trial setup will be finalized with initial version of the components being ready to start integration with trial setup. The second phase will further deal with integration of the different components and enhancement of the trial systems for the validation and demonstration of the 5G services for different manufacturing applications. WP 6 on impact and dissemination will start from phase 1 only.  Radio deployment issues and operator business models tasks will span over both phases, and will be intensified in phase 2.
Initially, all the partners will work together to define use cases and KPIs in WP 1. Work package 2,3,4 will further take input from WP 1 on use cases and KPIs for validation and demonstration of 5G services. WP 5 will start in parallel to WP 2-4 looking in technological 5G features beyond trials WPs, work on WP 5will be intensified in phase 2. The main objectives of each WP are briefly described as follows:
WP1 will describe the use cases, their requirements and related KPIs as well as innovative and viable business models from the vertical industry perspective. Furthermore, this WP identify and evaluate different network design options considering the technical use cases and business related KPIs.
WP2 will develop a 5G-based testbed, using the basis of 5G EVE Kista Lab. This WP will use the 5G EVE lab to trial innovative use case scenarios focusing on industrial robotics as well as coexistence between indoor-outdoor networks.
WP3 will develop a trial in Aachen to investigate the potential of 5G for the enhancement of industrial manufacturing processes and its integration into the manufacturing environment. This WP will focus on critical process monitoring scenarios, that cannot be realized with state-of-the-art systems or directly benefit from the ubiquitous availability of a wireless connection.
WP4 will develop a trial in Reutlingen to check how 5G can transform factories in a wireless environment not even harming electromagnetic-sensitive processes.
WP5 will further leap from the trials work-packages by diving deep into various technical aspects of the 5G systems beyond those that are already standardized (e.g. in the scope of 3GPP Release 15 specification) or currently under standardization. This WP will design and validate with prototypes some of the identified feature required in industrial applications beyond current technical solutions.
WP6 is devoted to dissemination, exploitation, and standardization activities.
WP7 will provide the project and technical management.