PRESS RELEASES
After the 5G-SMART project has been up and running for one year, we would like to take the opportunity to highlight the most significant achievements and news of the project so far.
In this issue, you will find out more about:
Milestones achieved
Published 5G-SMART deliverables
Upcoming events
5G-SMART aims at demonstrating how 5G can improve manufacturing through its work on industry field trials, business models and research concepts. Within three 5G-enabled industry field trials (located in Aachen, Kista and Reutlingen), 5G-SMART is demonstrating, evaluating, and validating 5G systems for manufacturing applications in real production environments.
In the first year of the project, 5G-SMART has succeeded in making a broad analysis of smart manufacturing use cases, investigating the definition and characteristics of the use cases to be trialed at the three different trial sites of the project, but as well taking a look at more future-looking use cases. The deliverable D1.1 summarizes the findings of 5G-SMART in this area including a detailed description of use cases and a requirements analysis. Furthermore, the project has made a thorough gap analysis between the state of the art and requirements of the smart manufacturing use cases, focusing on 5G features, such as integration of 5G with Time-Sensitive Networking (TSN), 5G end-to-end time synchronization and positioning. Results can be found in deliverable D5.1.
A milestone was reached, when finalizing the design of the 5G communication network deployment for all trial sites. At two of the trial sites, in Kista and Aachen, the 5G networks are already installed.
In this newsletter, we only give short insights into the project progress, the interested reader is referred to the intermediate project report, deliverable D7.2, for a more details.
The year 2019 not only marks the tenth anniversary of the Ericsson Innovation Day, it is also the year of the 5G launch in Germany. Since the new mobile radio standard plays a special role in the industrial sector due to novel technical features as ultra-low latency and high reliability, novel solutions for smart manufacturing do not miss the scene. As part of Ericsson Innovation Days the Fraunhofer IPT being a close industry partner demonstrated in the project 5G SMART, how the new mobile radio standard will enable real time monitoring of work pieces and machining processes, resulting in real-time detection of process disturbances and thus a reduction of manufacturing costs.
Ericsson Innovation Days and 5G-SMART
This year the inhouse-exhibition of the 5G technology expert Ericsson took place from 24 to 26 September and as always, many new innovative applications were presented, this time especially in connection with 5G. The exhibition focused on the five modern key topics titled as Limitless Connectivity, Intelligence Everywhere, 5G Consumer Value, Security, Trust and Reliability and Industrial 5G Ecosystems. The Fraunhofer IPT, as one of the Ericsson's partners, participated with a demonstrator of the project 5G-SMART, a project that aims to create value in the manufacturing ecosystem: through enabling real-time monitoring of work pieces, machines and manufacturing process via Ultra Reliable Low Latency Communication (URLLC) services that will provide real-time detection of process failures resulting in reduction of manufacturing costs.
The use case AE-Sensor
The new 5G mobile radio standard features ultra-reliable low latency and this enables real-time process monitoring and control. To demonstrate exactly these qualities in an industrial application, an acoustic emission sensor jointly developed by Fraunhofer IPT together with the project partners Marposs and Ericsson was exposed in a drilling process. The sensor, which is directly placed on the work piece itself, allows a previously unknown process proximity and transmits the data via 5G. It is clearly seen that this use case targets time-critical process optimization inside a factory. Using a system of smart sensors, a flexible cloud environment and a 5G communication infrastructure, real-time monitoring and control of highly complex processes is now possible. Both wear of the tool head and process errors can be detected at an early stage of production and intercepted by immediate process control. This ensures the high quality of the product and enormous cost savings due to reduced rejects or necessary post-processing of workpieces.
EU-project 5G-SMART shows how 5G boosts smart manufacturing
By 5G-SMART consortium, 2019-06-11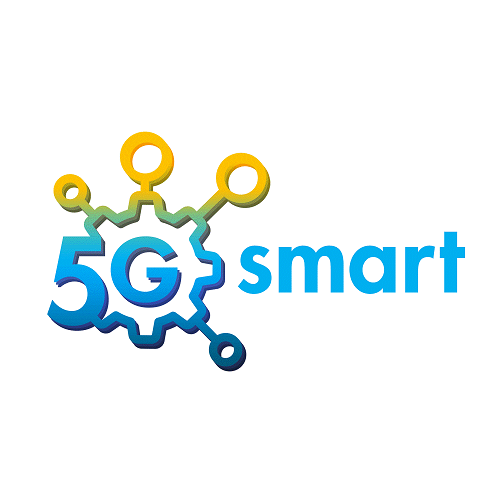 Keywords:
Industry 4.0, smart manufacturing, industrial IoT, 5G industry trials, collaborative robotics, cloud and edge computing, smart business models, EMC and channel measurements, 3GPP release 17
5G-SMART, a H2020 project funded by the European Commission and coordinated by Ericsson and ABB, will officially kick-off June 11-12, 2019 at Ericsson headquarters in Stockholm, Sweden. Several 5G-SMART project partners have leading positions in 5G-ACIA.
5G-SMART unlocks the value of 5G for smart manufacturing through demonstrating, validating and evaluating its potential in real manufacturing environments. 5G-SMART will test the most advanced 5G-integrated manufacturing applications such as remote-controlled industrial robotics, wireless process monitoring in manufacturing, and mobile robotics, by bringing first ever 5G deployments into real manufacturing setups: at an Ericsson factory in Kista (Sweden), at the machine hall of the Fraunhofer Institute of Production Technology (IPT) in Aachen (Germany) and at a Bosch semiconductor factory in Reutlingen (Germany). On site, 5G-SMART will undertake the evaluation of electromagnetic compatibility (EMC), channel measurements and co-existence testing between public and private industrial networks.
Furthermore, 5G-SMART will go beyond the trials and develop new 5G features targeting the needs of the manufacturing industry, like the integration of 5G with time-sensitive networking, and critical cloud platforms enabling flexible software development while providing low latency and high reliability. To further accelerate the take-up of 5G in the manufacturing ecosystem, 5G-SMART will explore new business models, identifying the potential for factory owners, operational technology suppliers and mobile network operators.
Over more than two years, a multidisciplinary team consisting of ICT and 5G suppliers (Ericsson, Cumucore, T-systems Hungary), network operators (Orange), providers of wireless communication technologies and components (u-blox), operational technologies' suppliers (ABB, Bosch, Fraunhofer IPT, Marposs), factory operators (Bosch) and academia (Lund University, University of Valencia, Budapest University of Technology and Economics) will show how 5G can boost smart manufacturing.
All news, publications, and other outputs of the project will be available on the official project webpage at www.5gsmart.eu.